My first launch story - Green Dot Challenge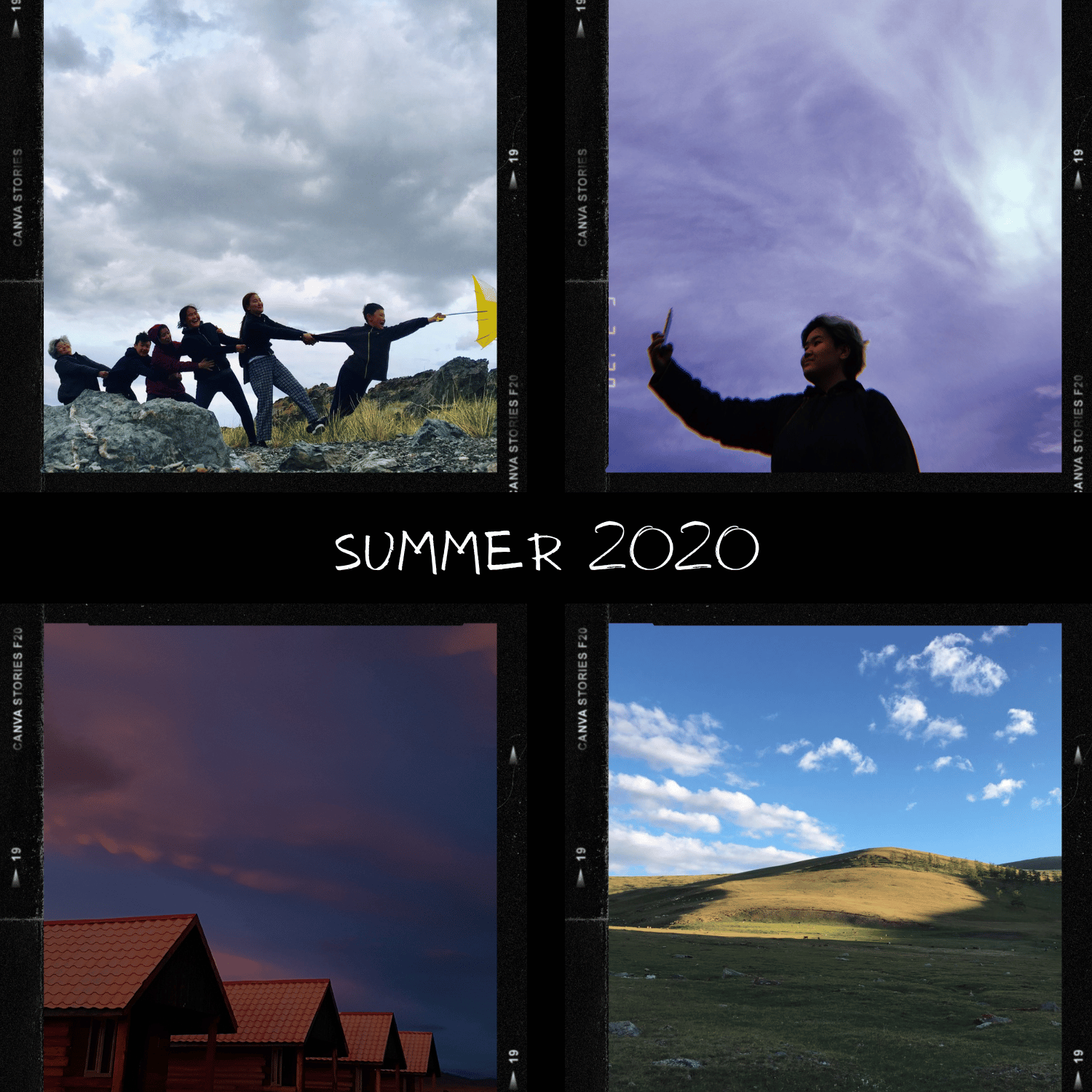 I am the one in the back. My sister is the one in pink. Other three are our cousins. On the southern beach of Uureg lake, near Suldet camp.
As I announced in my last blog post, I'm Launching 12 Startups in 12 Months. Here is the promised update of the first startup I worked on: Green Dot Challenge. Before I jump into the details of the last month, I'll give you a little background on Green Dot and its challenge. If you'd like to skip to the challenge entry, go to the section titled Green Dot Challenge story: 12S/12M December, 2020 entry.
Green Dot concept story
There is a photo of me, my sister Irene and our cousins with the umbrella. We live in different cities in Mongolia, but this summer, we got to spend our summer holidays together in beautiful nature just like when we were little.
Where we stayed is almost like the middle of nowhere, and we were there in isolation partly due to COVID-19 situation in the cities, so we were a bit sad and nervous that this pandemic is happening to our planet, but we were determined to make the most of our holidays. And yes, we do pose for very goofy photos when together.
At that time, we were all trying to stay physically active, running on the rocky beach, running on the small concrete roads of the tourist camp in circles, swimming, doing yoga-like exercises, playing basketball and volleyball, hiking and walking a lot. We were also trying to calm our generally anxious nerves by meditating and sleeping a lot. There was no internet connection and we were off the power grid, so we simply didn't have much screen time.
In nature, with physical activity, homemade food, good sleep and no screen time. Ah, the good times…
But we knew that once we go back to the city, things will go back to normal. For me, normal meant sedentary lifestyle of a software engineer, anxious days of a somewhat self-starter and lots and lots of screen time. As most of my bigger cousins are either in university or studying in high school with very busy schedules, they shared the same fear too. So we decided to find a way to encourage ourselves to keep living the healthy lifestyle even when things are crazy busy and even if it's hard.
And let's be honest, living healthy is damn hard.
This is how we came up with Green Dot, a concept to define a person who understands that living healthy is hard and still tries to live a healthy life on a regular basis anyway. To be a Green Dot means to care about their nutritional status, physical activity, mental health and environmental health in a chill but scientific way. They ideally wouldn't obsess over numbers, missed days and toxic body images. They ideally are informed with the scientific knowledge behind those health aspects and armed with tools and resources to keep themselves motivated through personal health trials and errors.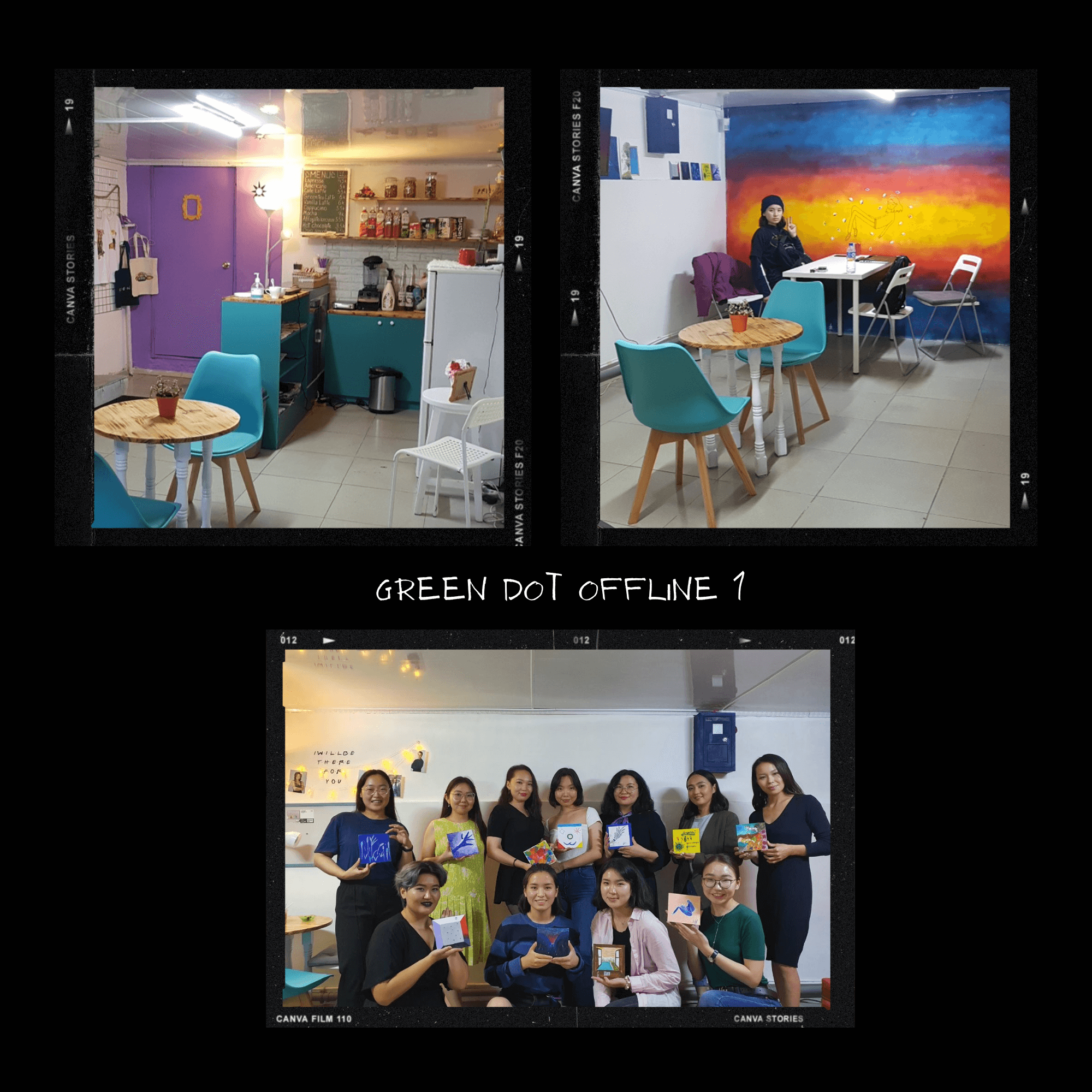 The last photo is from our soft launch in August with dear friends where we painted and had so much fun. You can watch the short IGTV-documentary here.
Green Dot startup story
Then the holidays ended and we (I and Irene ) came back to the city with an idea and a sun×wind tan. Yup, that's a thing apparently.
We immediately rented a place near where I worked 9–6 and decorated it as a little community cafe where people attended self-care events during the day and an office where we worked during the nights. We called our cafe/office space "Green Dot Offline 1". There was a small room at the back where we would work and nap sometimes.
When I said self-care events, I meant coffee and canvas events, weekend planning events (seriously, an hour-long event just for decompressing and planning for yourself) and community events where a small group of people would gather and share about their health habits, struggles and know-hows. When they talked about their health behaviors, we listened. After a long while, we detected a pattern where friends or colleagues would be found saying something like this: "I am so busy these days that I forget to take care of myself. It's especially harder to try doing new healthy habits."
That's when I thought "What if we made the first healthy steps for you?". Going down that line of thought in action, I also discovered that many people have very vague definitions about health notions. Professionally trained people aside, we are taught about health in schools and colleges, but did we listen? We did, but that was not enough at all to sustain life-long healthy behaviors. This discovery and our sudden need to move offices forced us to bring everything we had at Green Dot and go online. Enter, Green Dot Challenge, a 30-day health challenge-as-a-product!
"A very important thing that I've learned through all of my work is that changing health behaviors is extremely difficult. […] There is a science to health behavior change. Changing any behavior is difficult process, but if examined and modified in a systematic way, it is possible to change health behavior." — Dr. Marney White , Yale University
Green Dot Challenge story: 12S/12M December, 2020 entry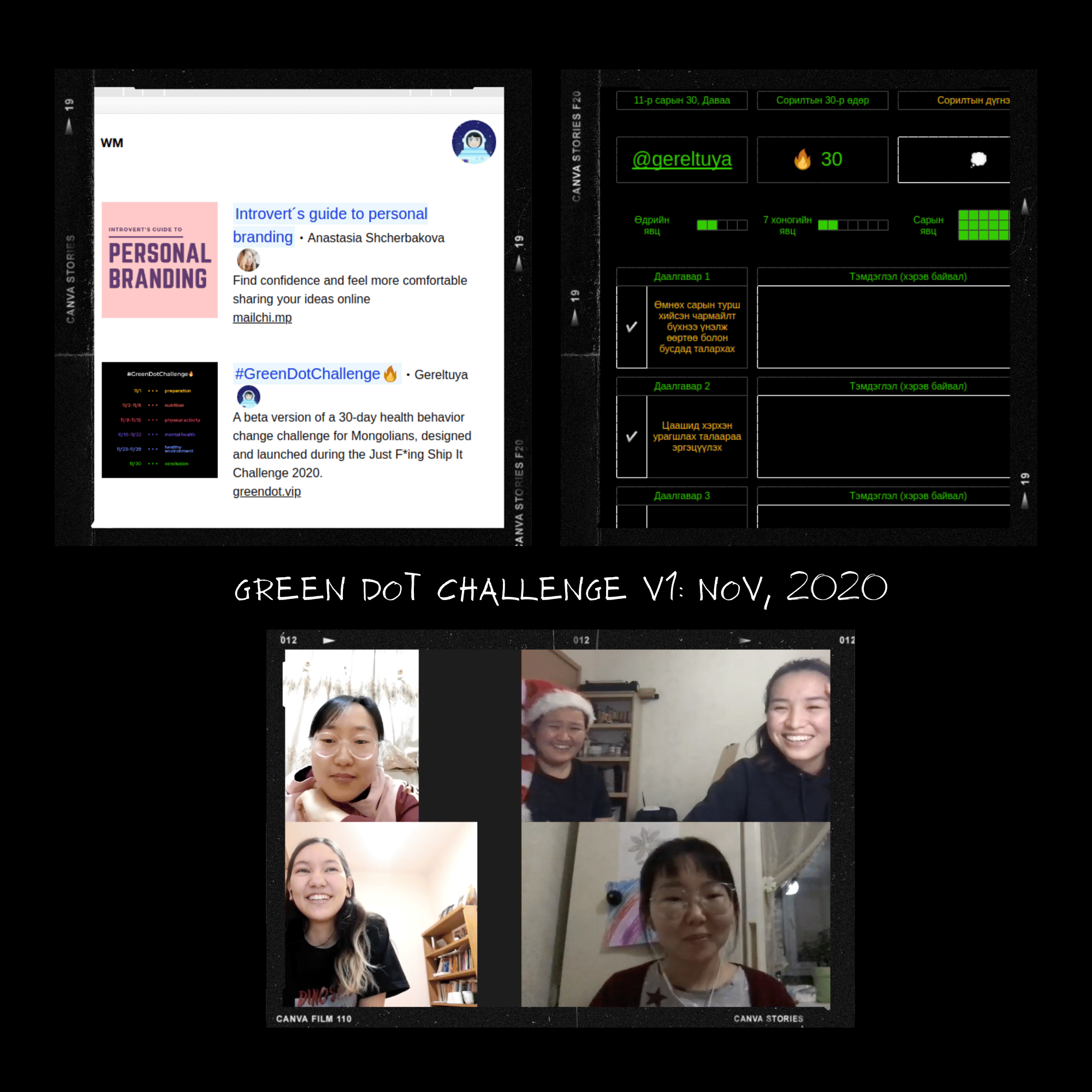 MVProcess. We launched to limited seats, used very simple tools, refined our content as we went and we wrapped November up with our dear challengers! 🙏
Before 12S/12M: By October, only I and my sister Irene would be working on the Green Dot startup. For the whole month, I studied specifically about health behavior change through this amazing course Health Behavior Change: From Evidence to Action from Yale University. I also participated in the Just F*ing Ship It 2020 hackathon by the great Women Make community to launch anything by the end of October.
Then choosing the course as the scientific basis for approaching health behavior change subjects and using the hackathon as the timeline motivator, we designed and launched the first ever beta version of Green Dot Challenge to family and friends. During November challenge, our program content was raw, we used Google Sheets to distribute the content and let our challengers track their own progress manually, and we used Telegram group chat to get feedback. Ah, also our challengers got public pages detailing their progress to share with their friends. Check mine!
November was best described as MVProcess, but it worked the purpose: we got quite happy 10 early challengers and some priceless feedback.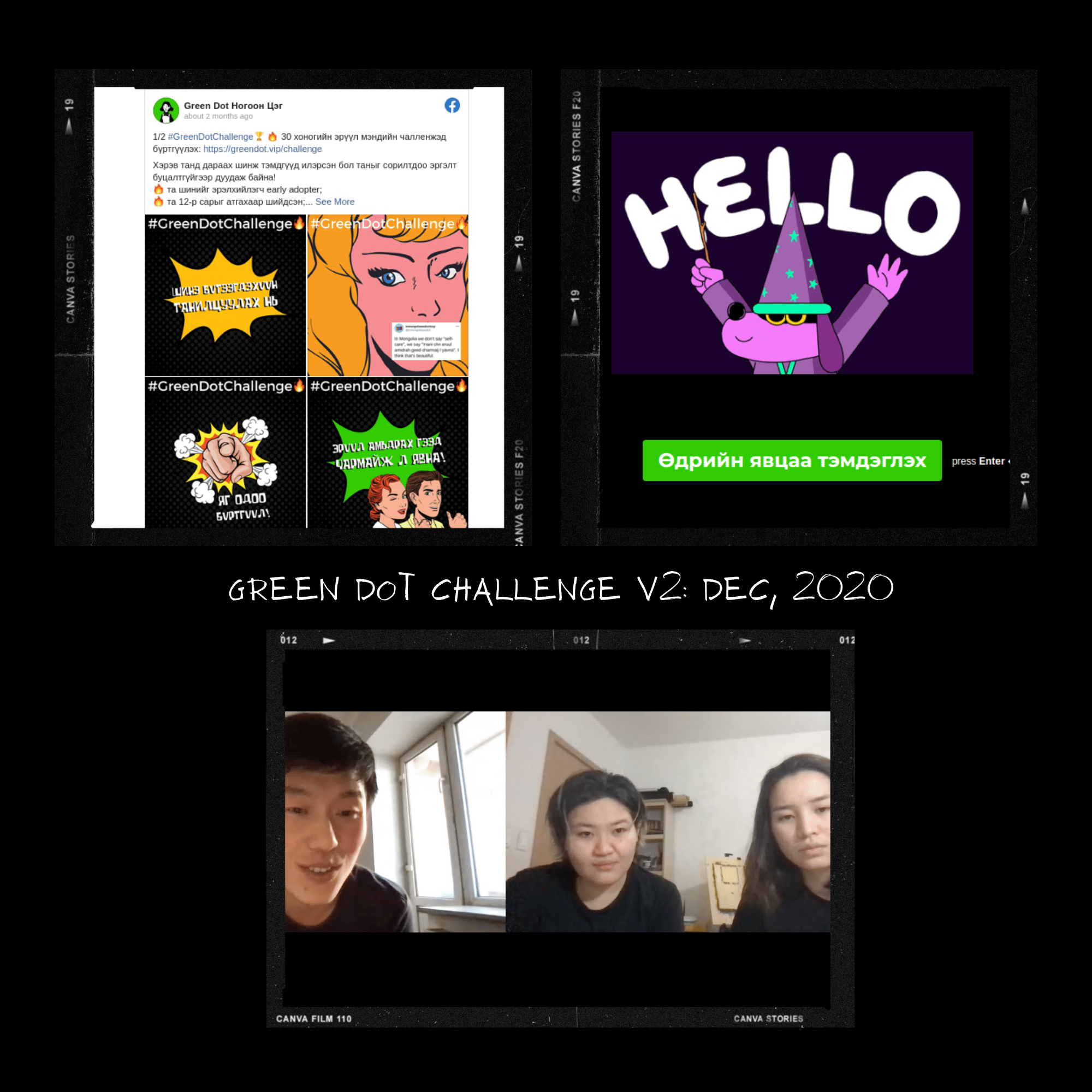 MVProcess V2. We launched to total strangers, used even simpler tools, listened closely to our user and we wrapped December up with our dear challenger!
During 12S/12M: December started and by then, we got our first paying challenger. Thank you, dear challenger! 🙏 It was a special moment for me and Irene , and we celebrated at home, in lockdown, with our favorite instant noodles!
Since my sister is in college, she is very busy and understandably so. It often leaves me to trudge all the way with tech, business and design, but she is always there for me literally and figuratively with feedback, actual workload-sharing, testing everything and pair entrepreneurship. Since I'd be often coding and patching things up myself, I decided to start 12S/12M to keep focused and document my side of the building process of Green Dot as a concept startup.
Now, during December challenge, we simplified the beta process a bit by eliminating the Google Sheets from the user side, instead distributing the content via Telegram group chat and getting daily progress tracking and feedback with a separate Typeform form all the while freely chatting with our challenger. We manually updated on their public progress page daily too. November was all about the technicality of things, things at least working, and checking if the general philosophy and feel of our brand being projected onto the challenge.
December was all about listening closely to our user and personalizing our program for them to fit their needs while we experiment with the business side of things.
On the business side, we experimented with different types of launches, believing that launching a product while still building it must be a continuous process. So we did these:
sent cold emails to some of my business contacts, got mostly ignored;
launched to stranger Facebook groups with similar theme; got totally ignored;
we put up three different versions of social media ads, one moderately successful in capturing leads;
we called leads, learned reasons why most was not paying and got 3 paying challengers. Thank you, dear challengers! 🙏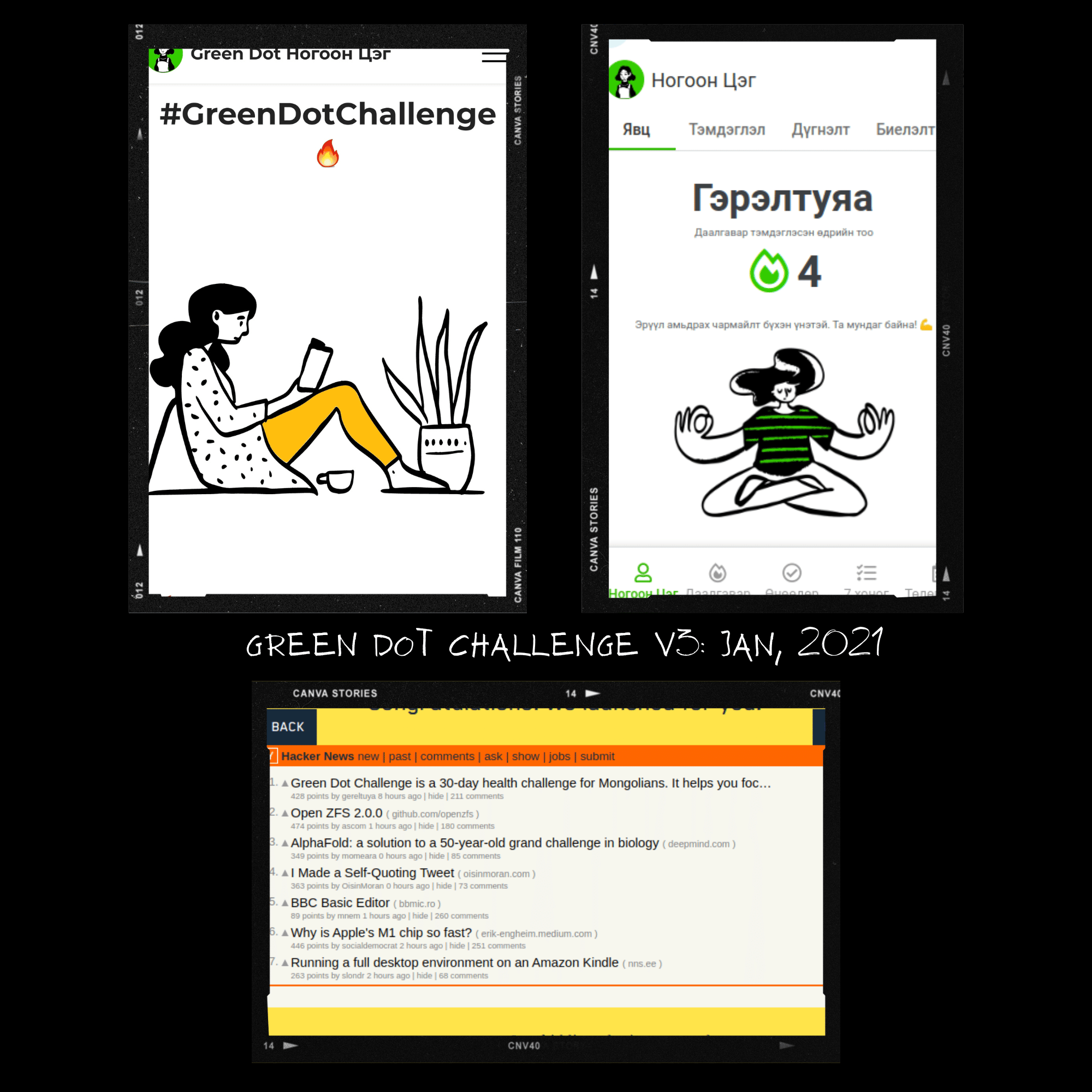 MVProcess V3. We launched to total strangers again, built an app and a website, and did a lot of auditing to our general process and progress. January, be good!
During 12S/12M: Then came January, with its new year — new month glory. We quickly went back to technicality of things, building a new app on the valuable feedback from our first two challenge runs! Since we decided from the beginning that we wouldn't write a serious line of code until we figured out most of what we're building, we started building a technology not until now.
Even earlier when I set out to make a very basic-functioning app, I realized that we didn't know most of what we need to build. Not even close. So I used a no-code solution to get a basic web/mobile app out by the start of January. Since then, up until today, we did 216 minor version saves and 3 major version releases to our 3 challengers.
Technicality did not end there since we just released the new version of our concept startup website, first update since the initial one from August, now added with information and call-to-actions related to our first product Green Dot Challenge! I also used no-code tools to build the landing page since it is much quicker, easier and prettier compared to my coding-from-scratch efforts. This website update happened due to an important tool use and mental clarity that came with its usage.
That brings me back to what we did on the business side. Since its beginning, I always admired Pioneer, but this month I got to use their newest tool built for "outsiders": Launcher. Let me tell you, it's simply amazing! I firstly used it to entertain myself by testing it, but I gained much more insight to my own thinking on startup and what we, as a team, have done on the Green Dot project. Thank you, Daniel Gross for Launcher and great learning resources (from Y Combinator)! So I did these partly thanks to the Launcher:
Learned that what we built to capture leads was a sales funnel and built a better one;
Contacted our first set of challengers and got more valuable feedback and built the app upon it;
Wrote an MVP spec on the app we already built, then gained insight into what was missing and built upon it as well;
Defined what we had up until this point in English, thus standing one step closer to the English language audience;
Defined additional user acquisition channels and planned upon it;
Defined success metrics for the next launch that is on February 1st;
Learned that the ways we used to gain users are called traction channels, found additional channels we could use to get more traction and ways we can improve upon existing channels;
Learned that the things we did overall are different kinds of launches, got reminded that we were partly correct about at least some startup things and found more kinds of launches we could do until we get stable;
Gained mental clarity as well as much confidence in what we are building and how we are going at it as a startup!
Also on the business side, as an effort for us to find the right value proposition, we had our first challenge fee increase with double the amount. So having 3 users means 6 users by the cost of our last challenge now. We are thinking of increasing it by constant amount until we build up to the product value and our users reach the "willing-to-pay" value.
In a nutshell, January was our busiest month yet with 3 challengers, a new app, a new website, and much better clarity and vision on the business side.
So this was Gereltuya, that would be all for now! For the next month or so, I and Irene will go back to listening to our users closely while keeping on improving our solutions on the technological side. Thank you for reading if you finished, have a good month ahead! And by the way, I'll be open to all kinds of discussions on Twitter or here or through email.